Call center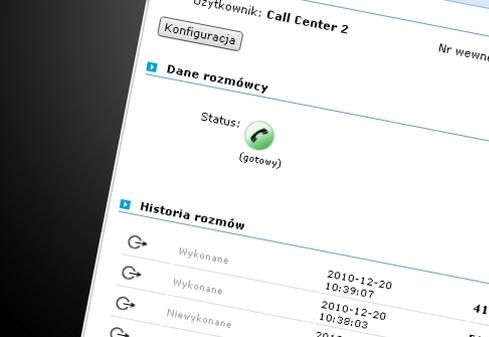 Integration with any PBX
Thanks to CallCenter7 module, cooperation between CRM7 a telephone exchange used in the company is sure - all calls automatically become elements ofCRM7 processes CRM7. Out of this functionality can benefit all departments in the company, whose integral part of work is making telephone calls, negotiations and customer contact.
Access to crucial data
All telephone contacts are automatically backed up as part of the process in the CRM system. The user who contacts the caller has instant access to data and contact history. Thus during a call all current information is available.
Automate actions
Efficient Contact Center relieves employees and spare them some schematic activities, such as dialing and recording any telephone contact. This also makes it easy to conduct telemarketing activities, plus interviews with the script. All interviews are archived in the history of contacts with the status, date, time, etc.
Professional customer service
Work based on the CallCenter7 allows smooth movement in the client's personal space, created in the CRM system. The employee sees the calling data, has access to information on existing cooperation and on the basis of available data can be moderated to keep the conversation.
Benefits of integration with PBX
Identification numbers of callers,
Automatic opening of contact history, which is representative of our correspondent,
Planning a telephone contact list for users of the system,
Registration number of phone calls made,
Presentation of incoming and outgoing calls on your extension control unit in the form of billing.