Report Wizard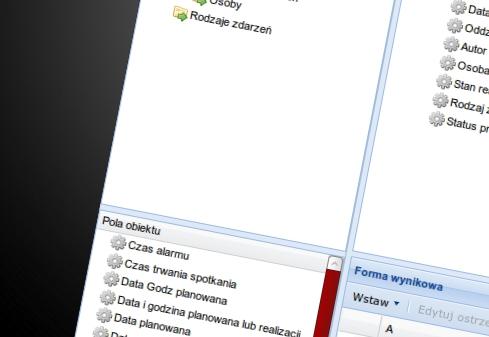 CRM systems used in the business, in addition to operational service must also provide support for the analytical operations. Simple reports, which provide information on the total number of completed tasks or clients who are on particular stage of sales service, perfectly fulfill the needs of users involved in direct contact with the customer.
Create complex reports
More complex reports, for example for managers of sales teams, provide a higher level of analysis, showing the situation within large groups of customers or subordinates. The next level of sophistication reports are typically used by people who are at the top of the hierarchy of a company or responsible for controlling and auditing. For advanced needs, Report Wizard allows users to create multi-layered and complex reports in text or graphics.
Administration panel
The basis of the Report Wizard is the administration panel, which allows using the drag & drop mechanism to create reports or modify their settings. The user can determine which data sources will be used, taking into account the hierarchical relationship between attributes. Administration panel also allows you to specify how you want your summary and, depending on whether it is a chart or matrix report, specify its properties. Another extend of this part of the panel is setting links between created reports with other, already existing, ones.
Presentation of results
The resulting form is used to determine what data will appear as a result of the operation. Here you also have a number of options that have a substantial impact on the creation of advanced reports. Conditions report allow using restrictions to data sets that will be used for reporting, divided into two groups of conditions: "and" and "or". Once created, the conditions can be freely set in the tree, which has an impact on the order of display data. When creating a report, you can also group the results to determine which are the most important elements of the report. The last element, which can be changed in the admin to sort the results, is allowing you to determine the order of presentation.
Basic information
Creation of reports with clear control panel,
Mechanism of drag & drop and AJAX technology, making getting around the panel simple and intuitive,
Identification of all sources of data with regard to their hierarchic links and associated attributes,
Selection with a summary of the various parameters determining the appearance of report,
Ability to create links between the reports in order to create a multi-stage analysis,
Determination the scope of the data appearing in the report,
Introduction of constraints to reports,
Selection of the most important parameters of the report, which will be displayed as the primary, range of sorting options,
Drill through - the ability to quickly transition from one level to the next result,
Standard planning process for businesses located in the results of the report,
Ability to change the scope of the generated report,
Saving reports as templates for users visible or hidden.