Workflow - Process Management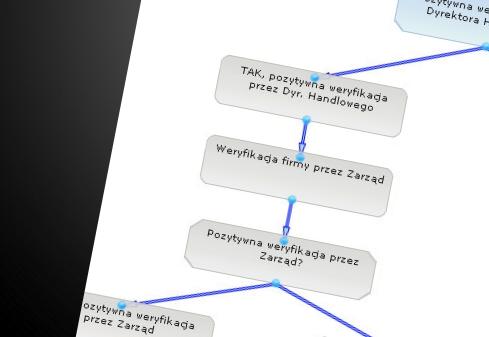 Modeling of processes in the system allows for the definition of process, which are sets of tasks assigned to the selected carers. Flexible schedules allow for determination of procedures, which eventually become business processes in the company.

The implementation of the next steps in the process can be dependent on many factors, such as acceptance of the job by the supervisor, the need to connect the documentation in electronic form or enter information about the product. Thanks to this process in the system reflects the actual performance of employees and the people involved.
Automatic scheduling of events
The implementation of a specific task automatically causes planning the next event in diagram defined by the procedure (process).
A graphical representation of the process
The system allows for a graphical representation of the process, together with information on what stage the company currently is. In addition, the person performing or supervising activities have full access to information about the resulting delays, what allows for more control over the progress of the tasks. Therefore, the work of the team is held more effective and more efficient, without unnecessary complications.
Clear division of processes
To organize the work, processes are divided into opened and closed ones. This way CRM7 allows you to set the transparency of the tasks that are currently being implemented in relation to the customer. Bright and clear information makes it easier to take appropriate decisions in cooperation with the customer and the standardization of the information to quickly generate cross-sectional reports.
Basic information
Ability to support repeatable business processes characterized by a specific path of implementation,
Graphical representation of the process handler with diagram - presentation of completed tasks, and possible options for the further implementation of the selection process,
Definition of process steps and associated components (such as documents, letters incoming service requests, invoices)
Definition of the duration of the various stages along with the ability to automatically notify their superiors of crossing,
The definition of the actions in step - creating a handler of the process,
Definition of the people involved in the process,
Editing process and its various stages, that allows to adapt to changing business conditions,
Registration of events and their costs,
History of completed stages history,
Immediate access to the necessary information to help you make the right business decision,
Monitoring the various stages of the process.